No coding required / 100% mobile / Zapier integrations / Easy to embed / SSL Protected / PayPal & Stripe Payments
Calculoid platform for creating loan & debt calculators
Calculoid is a platform for creating interactive loan & debt calculators, which can be easily published on your website. Features such as emails submissions will enhance lead generation capabilities. You do not have to be a web developer to create your own online calculator in just a few clicks.
Publish it easily
Publish your calculator on any website is a matter of seconds just by using the embed code or Iframe.
Lead generation
Get it touch with your visitors who used your calculator. Allow users to send calculation results to their email to generate new leads for your mailing list.
All you need for interactive loan & debt calculator
All math functions
Calculate anything like in Excel Spreadsheet. Easily, online and in real-time.
Custom design
Design and brand your calculators easily so it looks like a native part of your website.
100% Security
All calculators, as well as transferred data, are secured with SSL encryption.
All platforms
Calculators can be embedded in any website or web application. Easily and with no effort.
100% mobile
All Calculoid calculators are 100% mobile and touch-friendly.
Key features to build loan & debt calculator
You do not have to be a web developer to create your own loan & debt calculator in just a few minutes.
Sliders and text fields for value input
Checkboxes and round box for options
Formula fields for calculations
Graphs and charts to display a calculated values
Send result field for sending quote and lead generation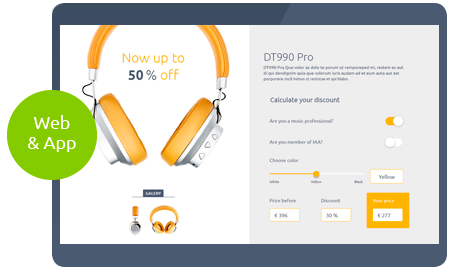 Excel-like formulas
In addition to the basic arithmetic calculations, Calculoid allows you to use popular Excel formulas, such as IF, sin, cos, log and others. From basic 1+2 to complex volume discounting, Calculoid has endless capabilities.
Lead generation
Get it touch with your visitors who used your calculator. Allow users to send calculation results to their email to generate new leads for your mailing list. Or even use Calculoid as a a full-featured conversion form - it is easy to create and manage!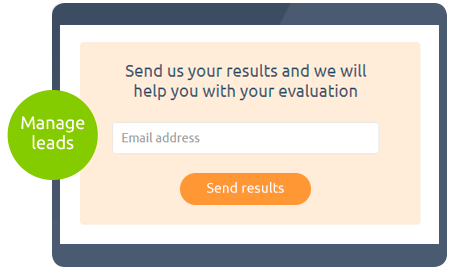 Statistics and reports
Check calculator submissions to have control on every sent result and use reports to see views your published calculator in time.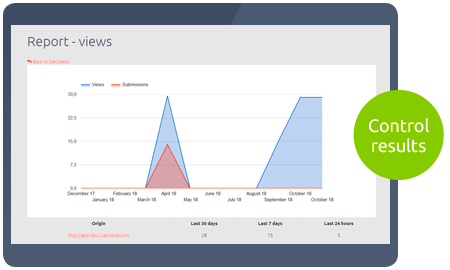 Easy integration
Calculators can be published to any website or online application and easily integrated with your information system using Zapier or REST API webhooks.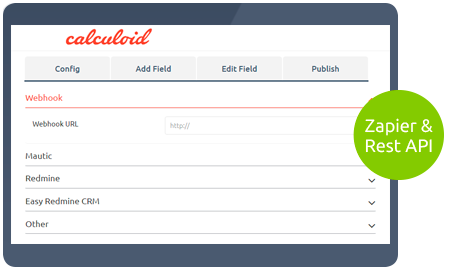 Web calculators templates
Calculate anything. Choose a template or start from scratch.
Boost your website interactivity, generate leads, accept payments.
Online payments included
Pricing Calculator
Calculate prices for products or services in real time and get paid online.
ROI Calculator
Calculate ROI of your products and services and collect customers leads.
Loan & Debt Calculator
Any finance related calculations for your users - insurance, loans, debts.
Costs Calculator
Calculate the costs of projects or services online & easily.
Saving Calculator
Calculate any saving for your customers and send email to collect the leads.
Online payments included
Online Store
Create a simple online store, calculate the final price and get paid online.
What users say about Calculoid on Capterra?
A great tool for interactive website features

Overall: I've used Calcluloid for over a year now and am overall quite happy with it. Users on our site like the interactive functionality, and I like that I can customize the look locally with CSS (great for mobile responsiveness). Good tool - a little pricey, but mostly worth it.
Pros: You can use custom formulas, customization with CSS, customer support is quick and helpful
Cons: The platform is a little bulkier, but seems to be getting better. I don't like their payment platform, but the tool itself works quite well

Alexander M

Online Marketing Manager , Consumer Goods, 1-10 employees

Good product

Pros: Ease of installation, free trial to figure out if it's working for us or not, ability to design and customize.
Cons: It takes some time to load on our web page, not sure if the problem is with our website or the calculator.

Alex K.

Marketing Coordinator , Warehousing, 11-50 employees

Integrating Calculoid in website

Overall: Calculoid is a good software that follows your requirements and useful if to integrate in any type of website or online platforms.
Pros: Calculoid was an easy configured software to your needs. The integration with our website as per embedded codes given was easily implemented. It was useful for my website.
Cons: I make use of the free capability that calculoid allowed but unfortunately those features were no longer available. We have to make a purchase in order to use it.

Muhd F.

IT Officer , Non-Profit Organization Management, 11-50 employees

It's a very useful and interesting product if used with easy project

Overall: I chose to ask for services. Everything was fine except that I wanted to use it in an integrated workflow with Easy project.
Pros: Very easy to use. The calculation tools are simple and user-friendly.
Cons: The administration with Easy project remains complex but it's a matter of mastering.

Thierry Z.

Director , Management Consulting, Self-employed
Calculoid on Capterra overall 4.5/5 (4 reviews)
Start Free Now
Create your own web calculator in a matter of minutes.
Test all features in the 30-day free trial.


No credit card or installation needed