Mautic integration for easy engagement of your Calculoid leads
Mautic is a powerful marketing automation tool that allows you to engage your leads through social media and email marketing and evaluate the performance of your campaigns. The leads generated through Calculoid and all the inputted user information are easily saved directly in your Mautic.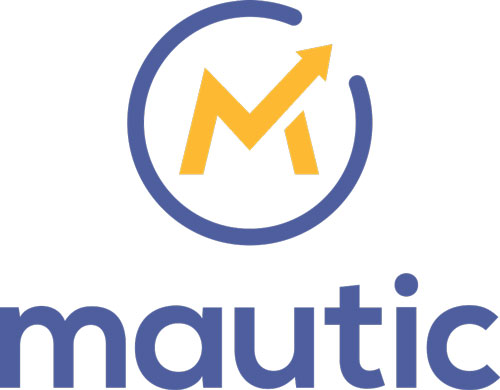 If you haven't started using marketing automation tool yet, drop everything and get one right now. Marketing automation tools, such as Mautic, allow you to effortlessly follow up your leads, set up campaigns and decrease the overall time doing manual work and concentrate more on the content, creativity, and refinement of the marketing process. All of this for the purpose of increasing revenues and deal sizes.
How to connect Mautic and Calculoid
Have you already tried using Calculoid as a Lead generation or e-Commerce solution? If yes, then you probably know that every submission is tracked under calculator Details and can be forwarded to your personal email. But why stop there? By using Calculoid with Mautic integration you can easily manage, engage, follow up and upsell your leads.
How? Just open your calculator and and under Integrate tab you will find our new Mautic integration. To connect, simply add your Mautic URL and Mautic form, to which the data will be sent to. The rest is easy, using field mapping you can easily assign outputs of your calculator to the fields of your Mautic form.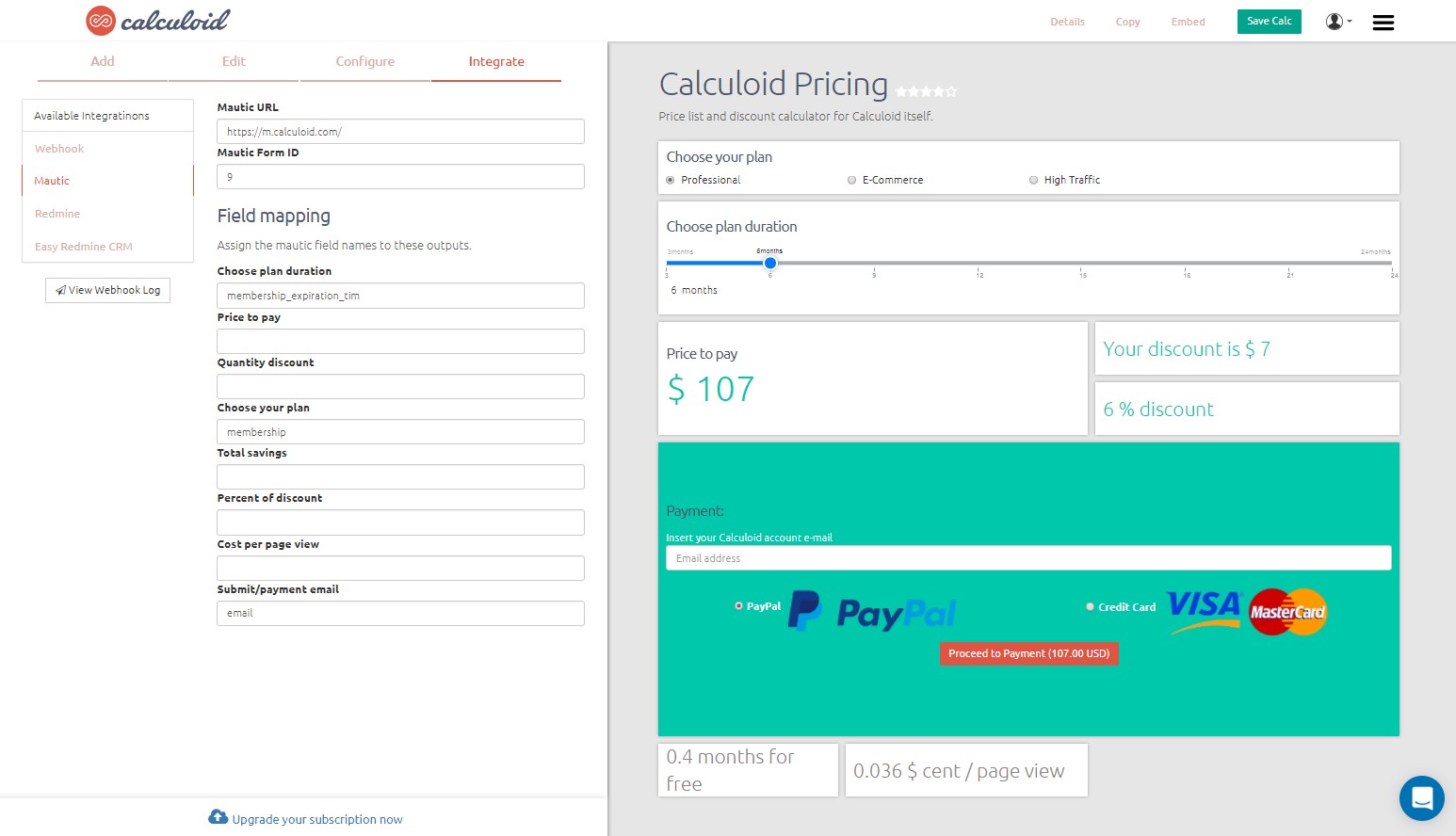 Once a user submits a result or payment through your calculator it will be instantly sent to your Mautic.
Our pricing page is a good example http://www.calculoid.com/pricing. Here user submits information such as the type of subscription, its duration, and personal email to the calculator. Using Mautic we can then easily keep in touch and send targeted newsletters to our paid users and inform them about approaching expiration.
Mautic integration for better contact management
By integrating Calculoid with your Mautic you can easily manage your contacts. Calculoid enables your users to instantly get a quote or make a payment for the product while allowing you to collect all the necessary information, which can now be easily collected and stored in Mautic, Mautic allows you to effortlessly track your users and nurture them.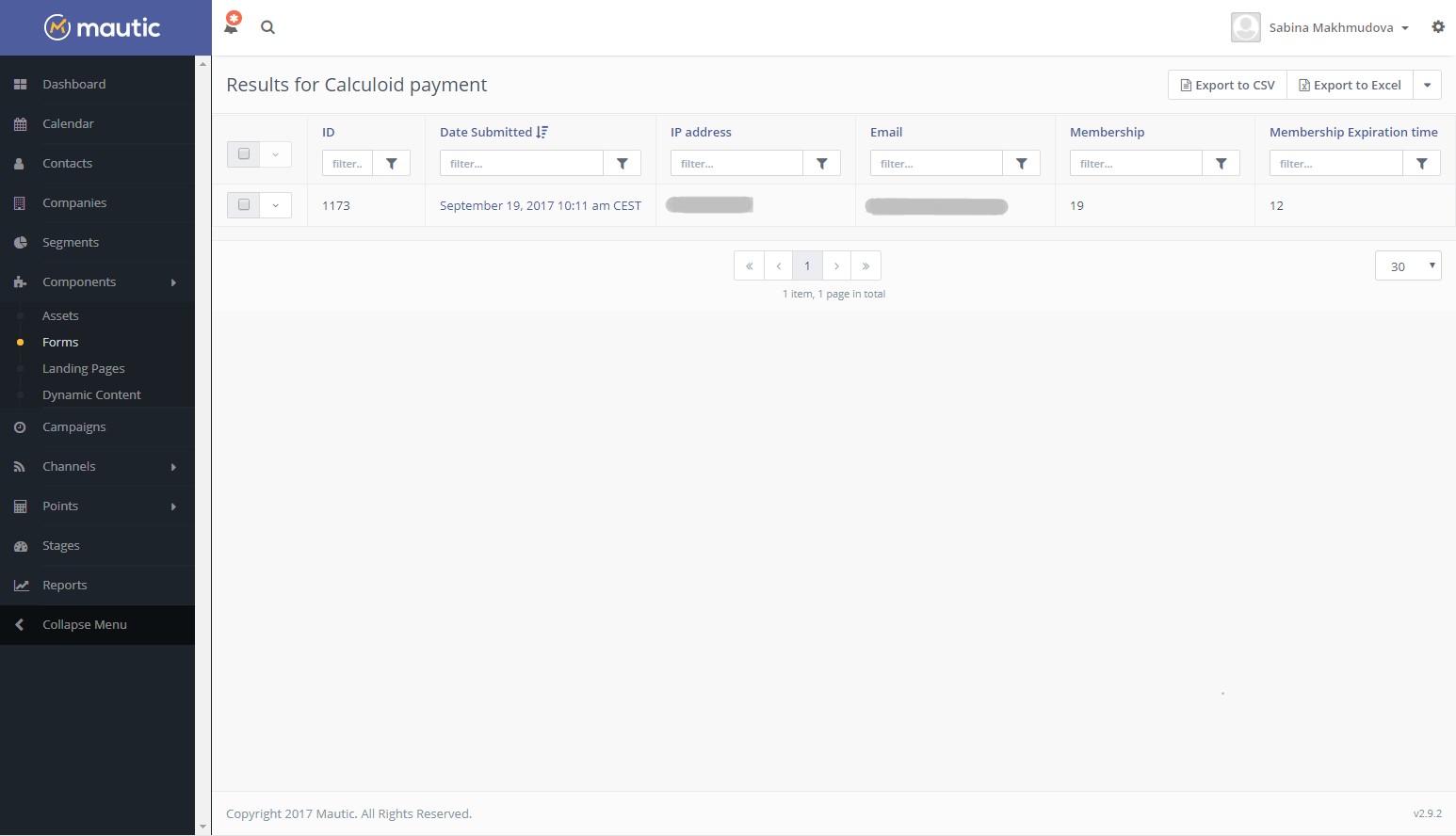 Mautic integration for improved lead follow up
While Calculoid allows you to just send a notification email to the user with an order summary or a quote, it takes much more effort and communication to develop a relationship with your lead or client. By pushing user information to Mautic you can easily follow up your leads/clients with pre-set campaigns and newsletters, perfect for ensuring a lasting relationship and future upsell.
All in all, by using Calculoid - Mautic integration you can fully exploit their mutual benefits, generate leads and follow them up in the most effective manner!