Why it is important to own your data
Although Calculoid is the SaaS solution, we want to be as open and transparent as possible. You can try all the paid fields (Email field and Payment field) with your free account.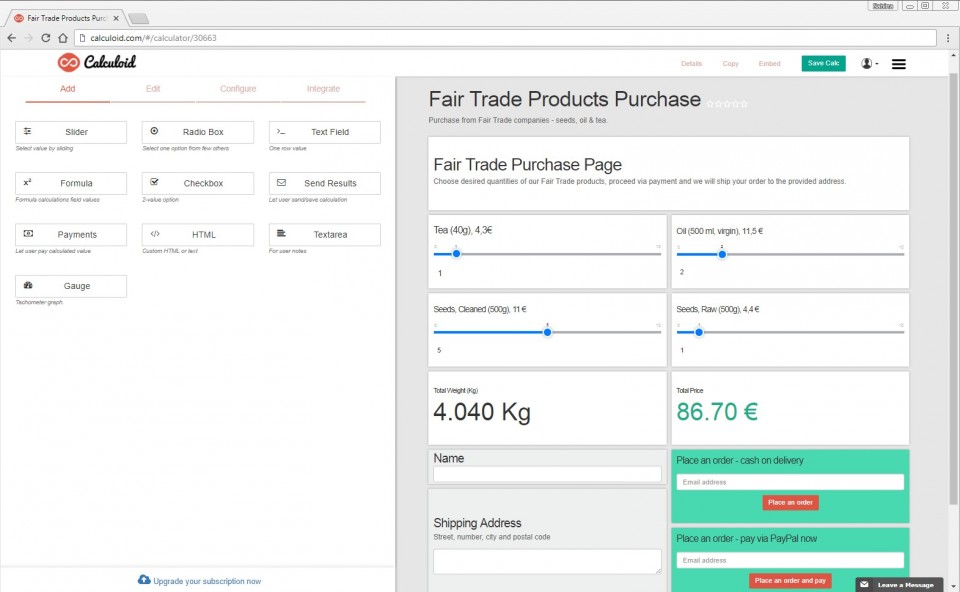 That is built into Calculoid from the day one. Last week we added possibility to export your data and more.
---
Improved Submission Manager
We improved the submission manager because we can see the increase of submissions created by your calculators every month (And we love that). Simple list of submissions was not enough anymore. Here is how the Submissions Manager looks like now.

New features
Take a look at what's new with the Submissions Manager.
Submissions can be searched by email address.
Searching a submission by email is a handy function. It works for submissions from the Email Field as well as from the Payment Field because email address is required for both of them.
Submissions can be filtered by the Payment Status.
The Payment Status Filter works for submissions from the Payment Field obviously. It makes the manipulation with the submissions/orders much faster. Nice little feature also is that at the bottom of the submissions list is the count of total submissions. So if you filter all Completed orders for example and you know right away how many you have.
All submissions can be exported.
We believe the export feature is the most important of them all. It gives you the data to your own hands. The exported file is in the CSV format so it can be imported to any spreadsheet program like MS Excel or Google Spreadsheet.
Export gives you the power to process the data from your calculators by any way you like. Export gives you the opportunity to leave Calculoid and use another service. We don't want you to leave of course, but we also don't want to force you to stick with Calculoid only because your data is locked in the service. We want you to use Calculoid because it is the best solution for your problem.
Calculoid Team
Any submission can be deleted.
We know that everyone tests the submissions first, but when you switch the calculator to the production, you want the clean slate. Now, you can delete any submission. The delete button is in the detail of each submission. Be aware that the submission will be gone for good when you do so.
Photo credit: Drriss & Marrionn / Foter / CC BY-NC-SA