Top 10 news of Calculoid 2019
Calculoid 2019 will surprise you by bringing more than what you would expect from it. Enjoy a brand new mobile-friendly design, web calculator templates just like a pile of new features, including payments or integration capabilities.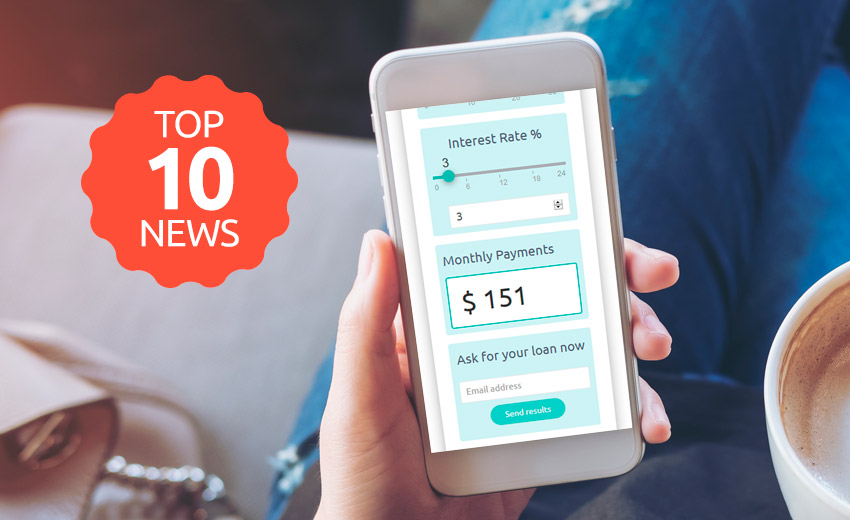 1. Predefined web calculator templates
We understand that building a calculator from scratch can be time consuming. Fortunately, now you can create a new calculator from a template and modify it to your custom web calculator, thus saving your time significantly. Simply choose from pricing, ROI, cost, loan, saving, medical, and online store templates or start from scratch with a blank calculator.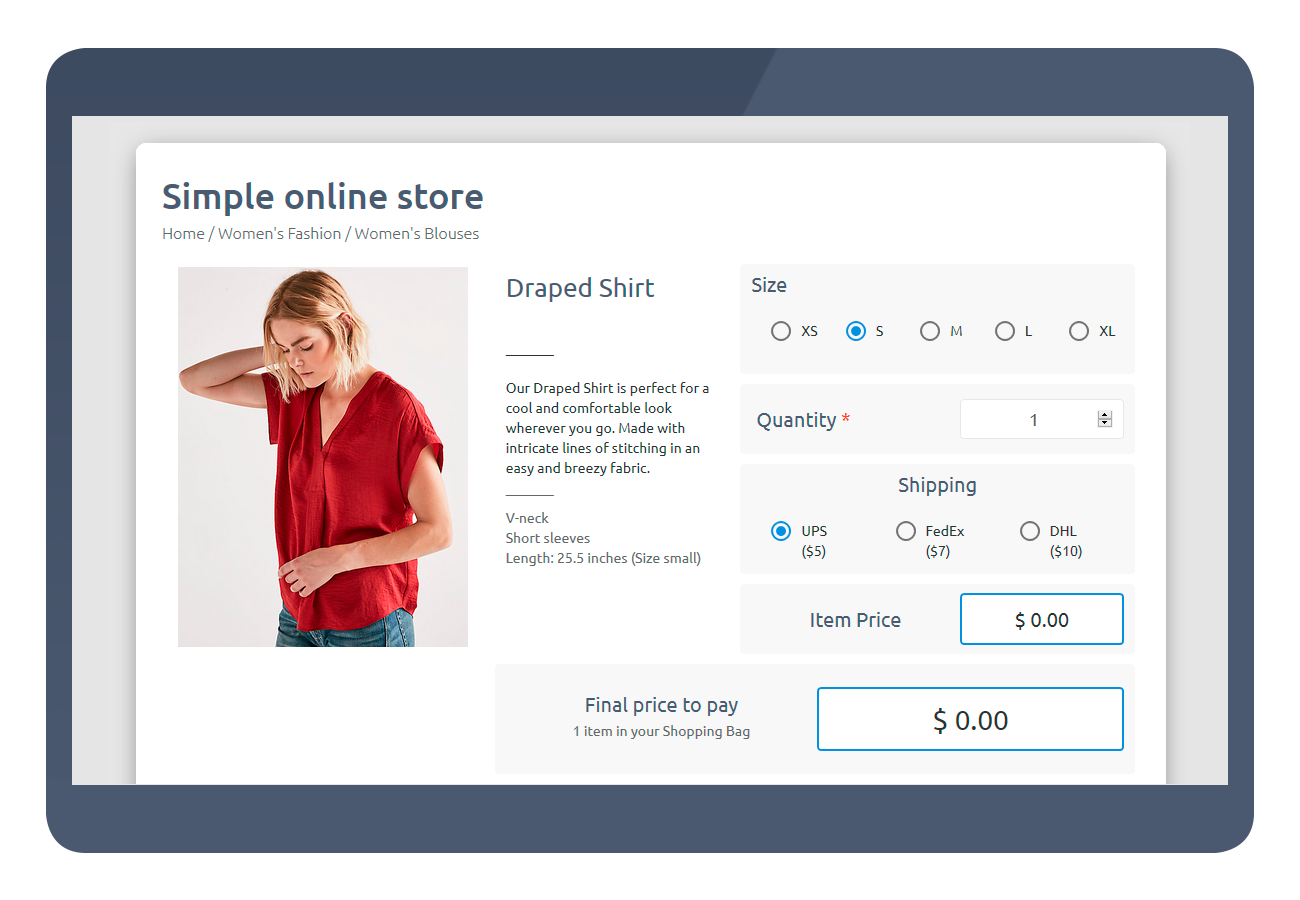 Online Store Calculator Template - Calculoid.com
2. Modern-looking and fully responsive design
Calculoid 2019 is not just feature-rich, it also looks damn good. Even in mobile browsers. Thanks to global design setting you can define a color scheme, calculator background, shadows, texts alignment and font size with our predefined design, or use advanced design to set up your own calculator look. With more options to choose from, you make your calculators stand out.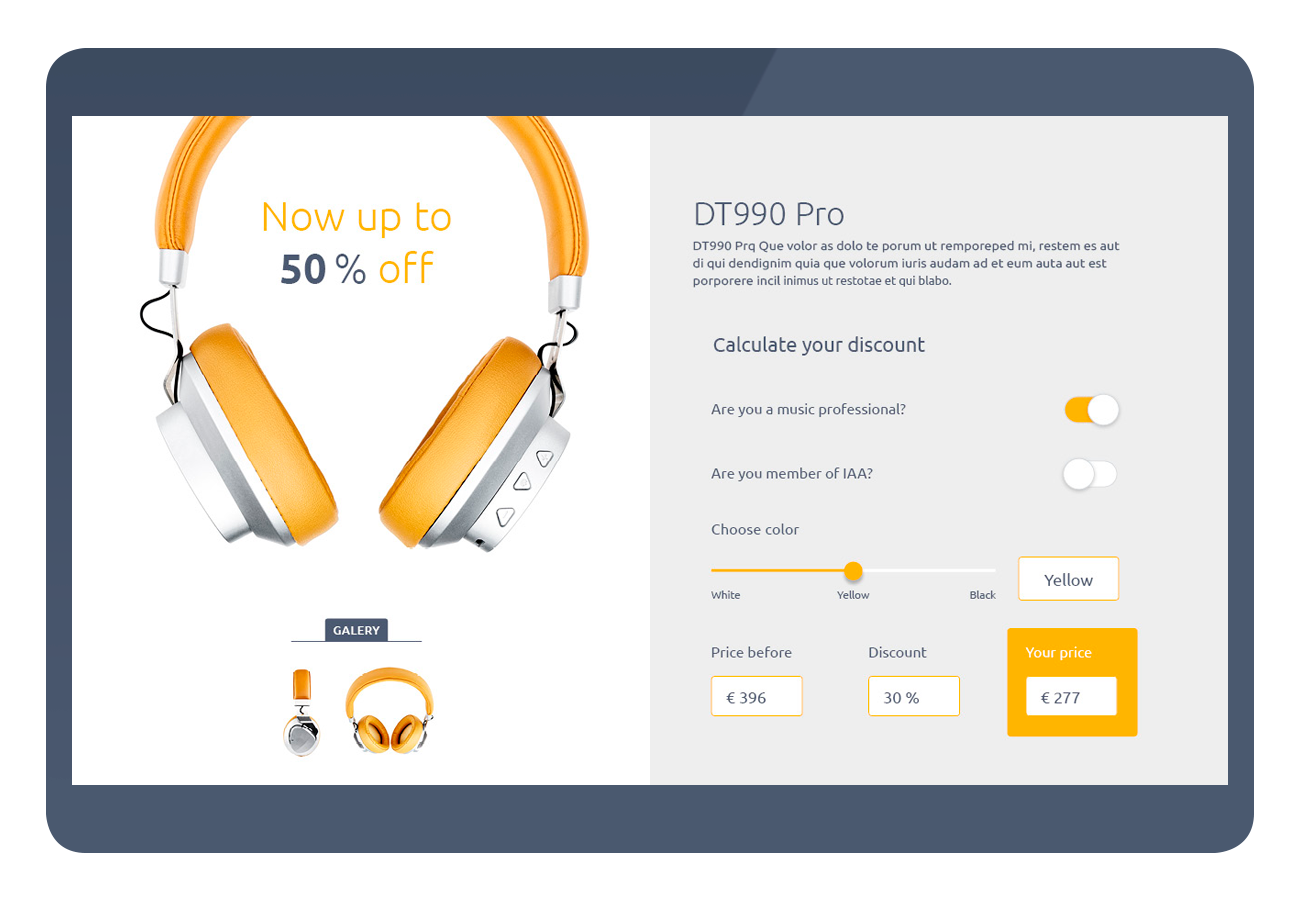 Interactive calculator for your website - Calculoid.com
3. Preview your web calculator or share a link to it
Another helpful feature is a web calculator preview button allowing you to see what will your calculator look like on different devices with various screen sizes. So you don't have to publish anything before you make sure that everything works and looks good. Then easily publish your calculator on your website or share the preview link to your friends or colleagues.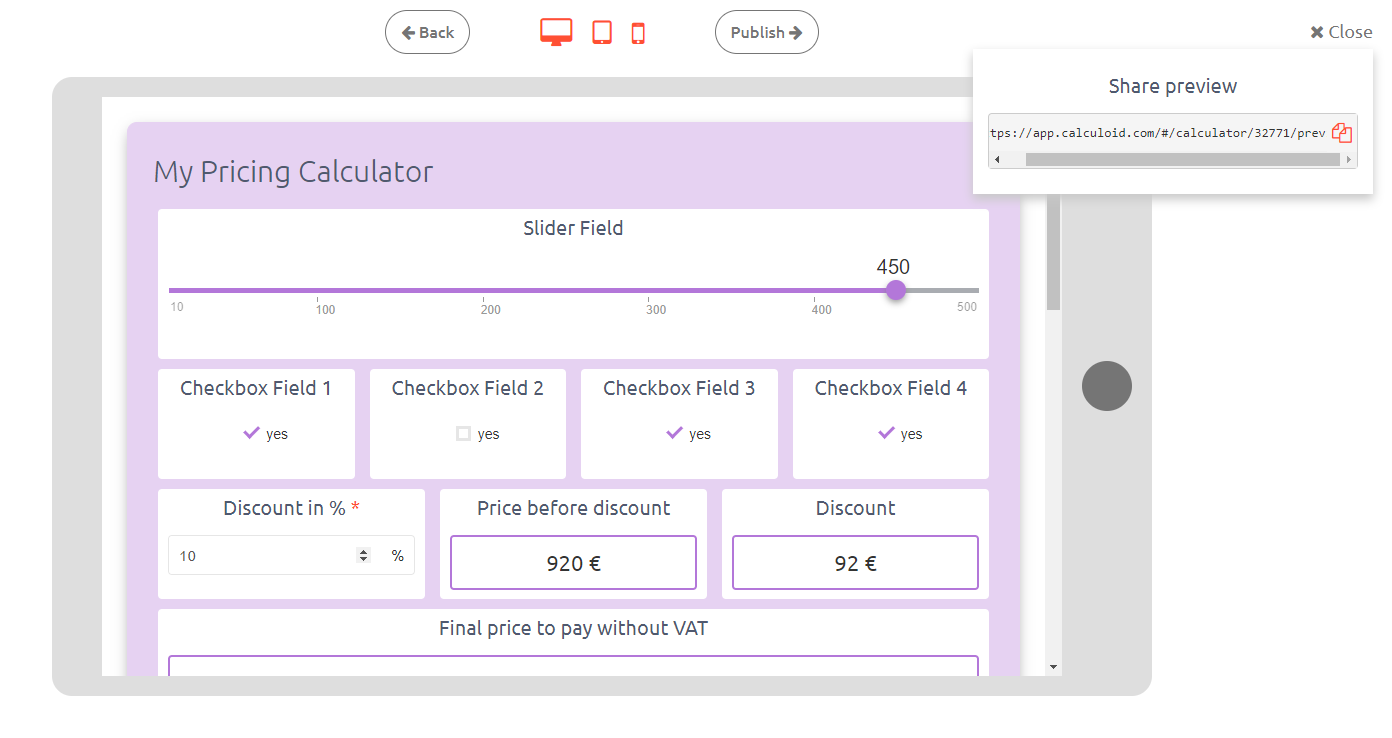 Calculator preview and link share - Calculoid.com
4. Present your data visually using pie chart field
When you need to express proportions as a result of calculation process, numerical data is just boring. So we added an option to add a graphic presentation of the statistics and results into your web calculator. Use the Pie chart to show multiple values in slices to illustrate numerical proportion.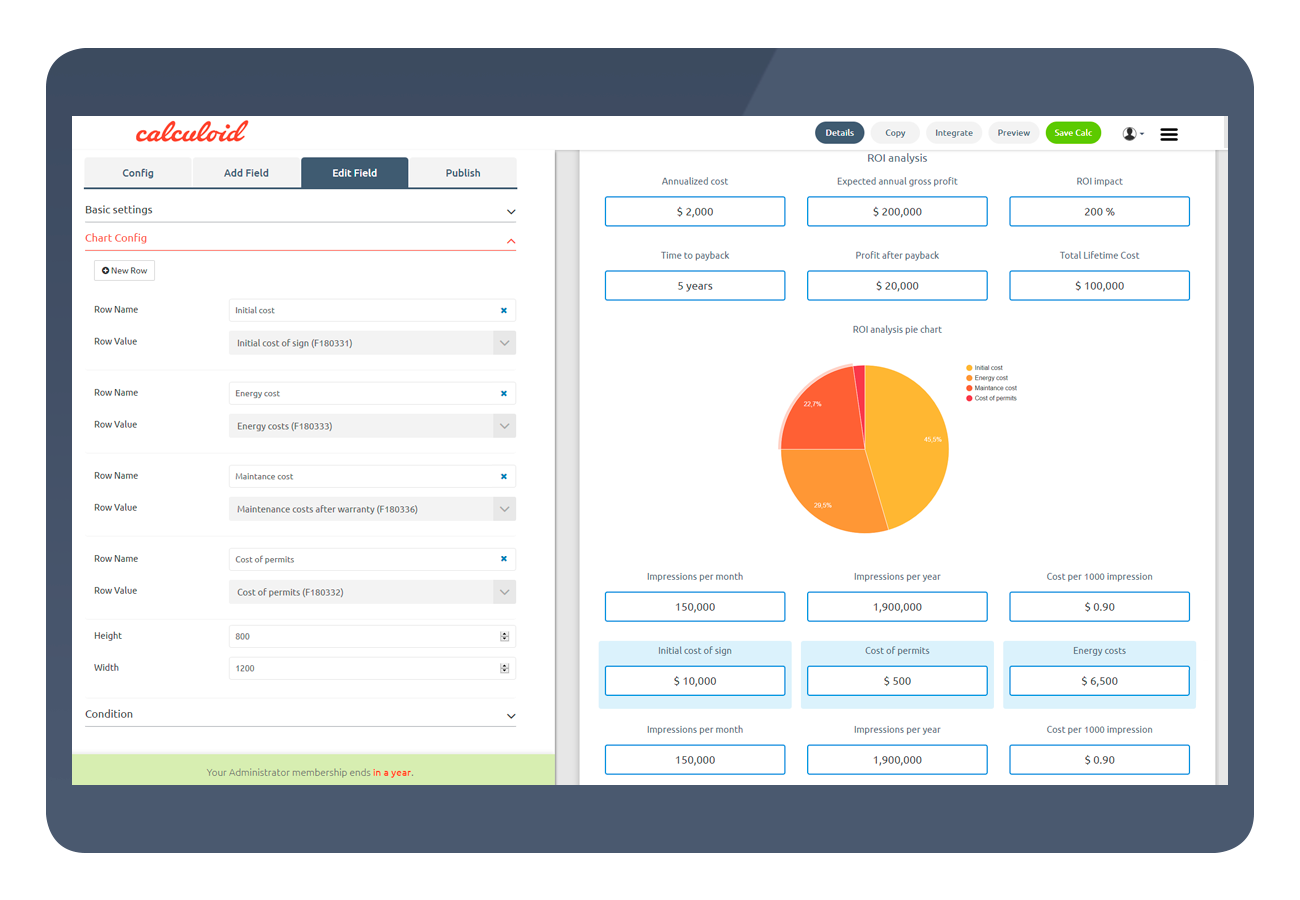 Pie chart field - Calculoid.com
5. Full-featured free trial for 2 weeks
During the 14-day free trial, you can use all Calculoid features including Send Result field for lead generation and take online payments with PayPal, Visa, Mastercard, Amex. After your trial expires, you can continue with a free plan or one of our paid subscriptions. All already existed Free account will be switched to Free Trial.
6. Connect your web calculator to any app using Zapier
Connect your calculators to more than 1000 applications thanks to Zapier platform. Integrate generated leads to CRM or marketing applications and online payments to finance systems.

7. Track calculator's submissions in Google Analytics
The data created by an activity on the specific Calculoid fields ("Send Results" and "Payments") will show in Google Analytics as events with user-defined attributes. Such an integration is crucial if you want to use your web calculators for lead generation or online marketing purposes.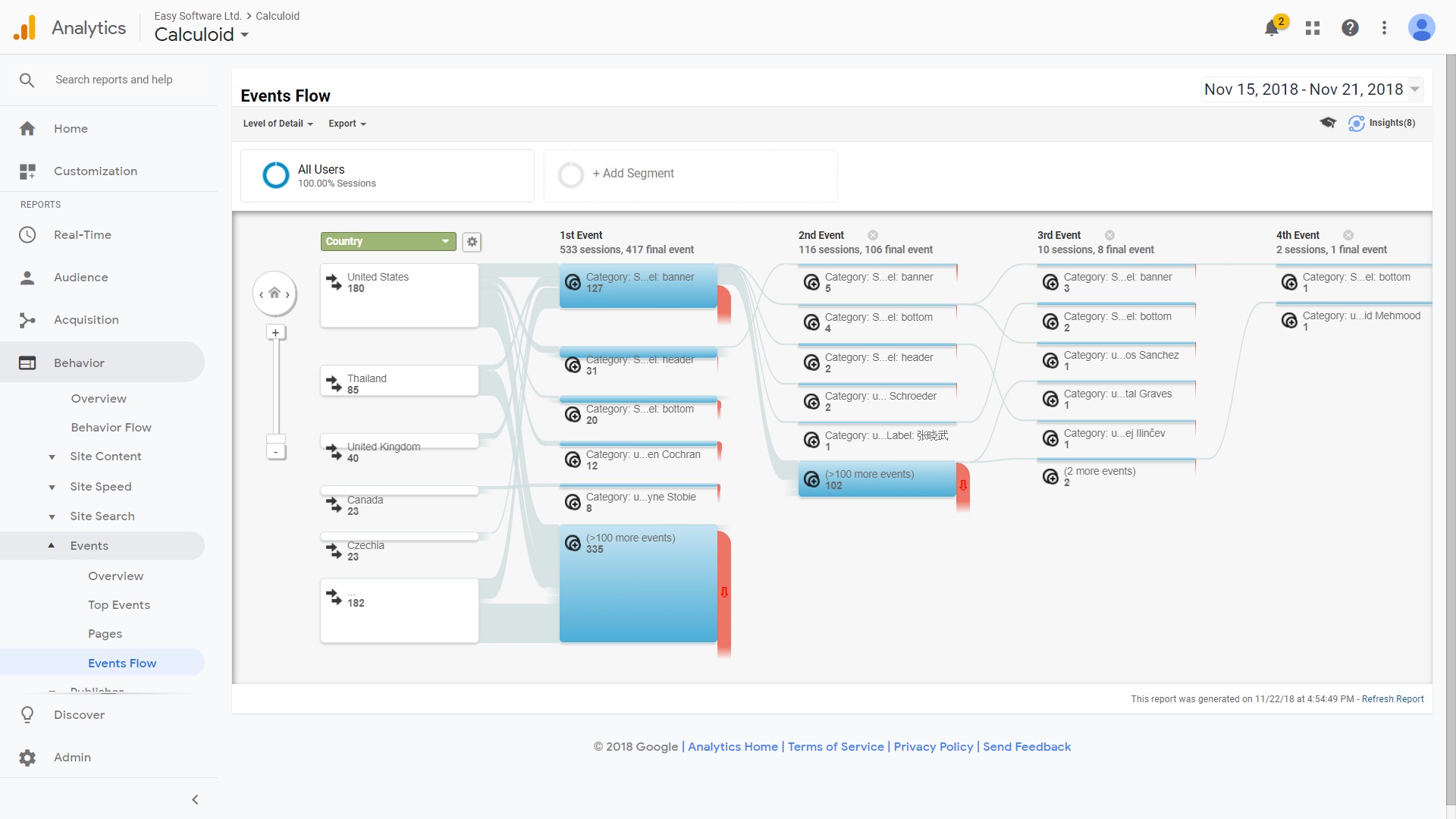 Events in Google Analytics - Calculoid.com
8. Online payments with possible recurrence
We added a conversion field, which let users to pay calculated amounts on administrator's account. Available payment methods include PayPal, credit card, and invoice / bank transfer. Moreover, this feature enables repeating a payment automatically in a defined recurring cycle/period. If you have your calculator integrated with an external system (such as Mautic, Redmine or others), a realized payment can be configured so as to automatically create a CRM case in the system.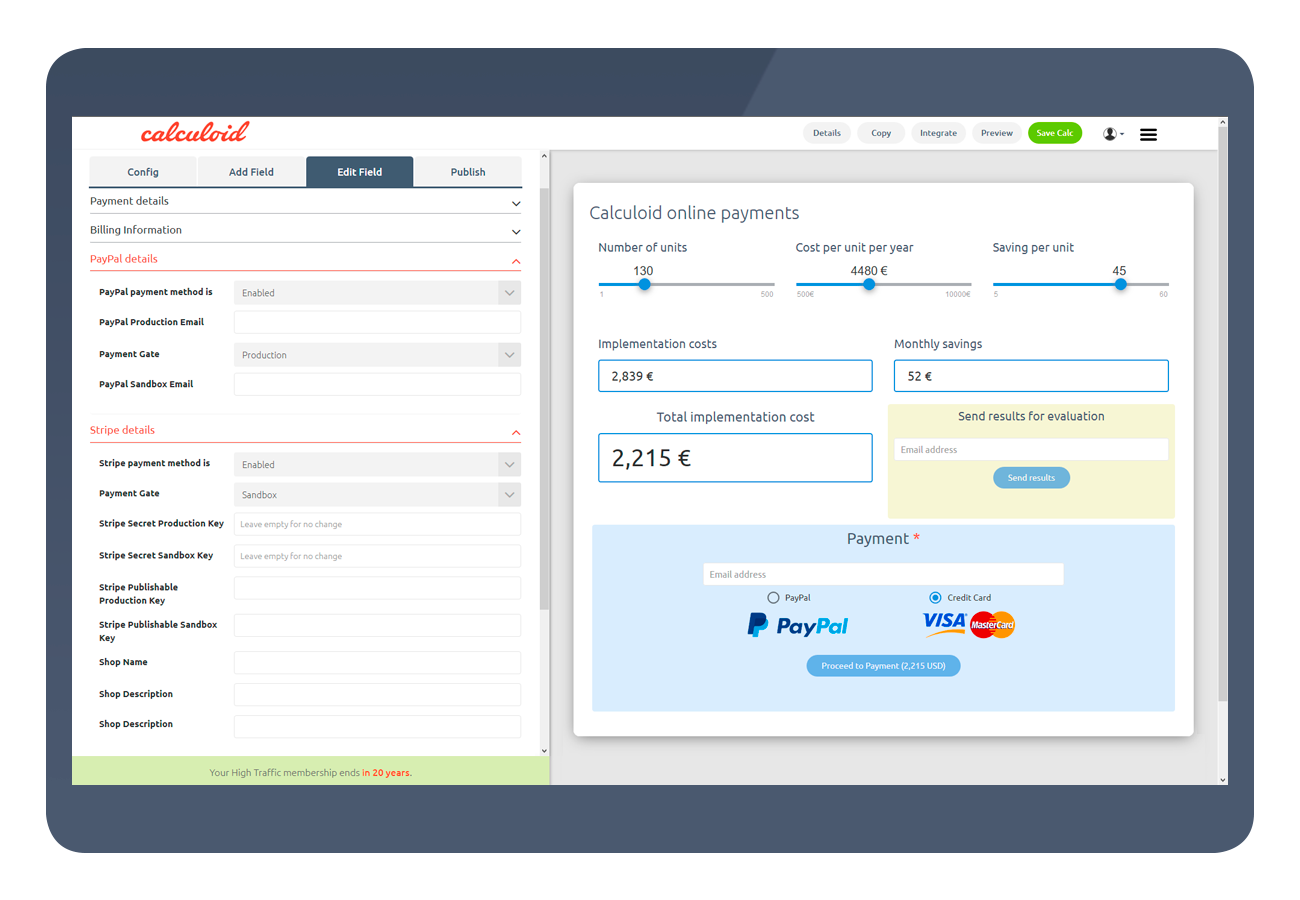 Online payments - Calculoid.com
9. Select field with CSV import option
Unlike the radio box field with options shown as checkboxes, the Select field is designed as the drop-down menu so it better suits the situations when the number of options is really high. You can choose if you wish to add new options manually or select a table (CSV file) to import the options from.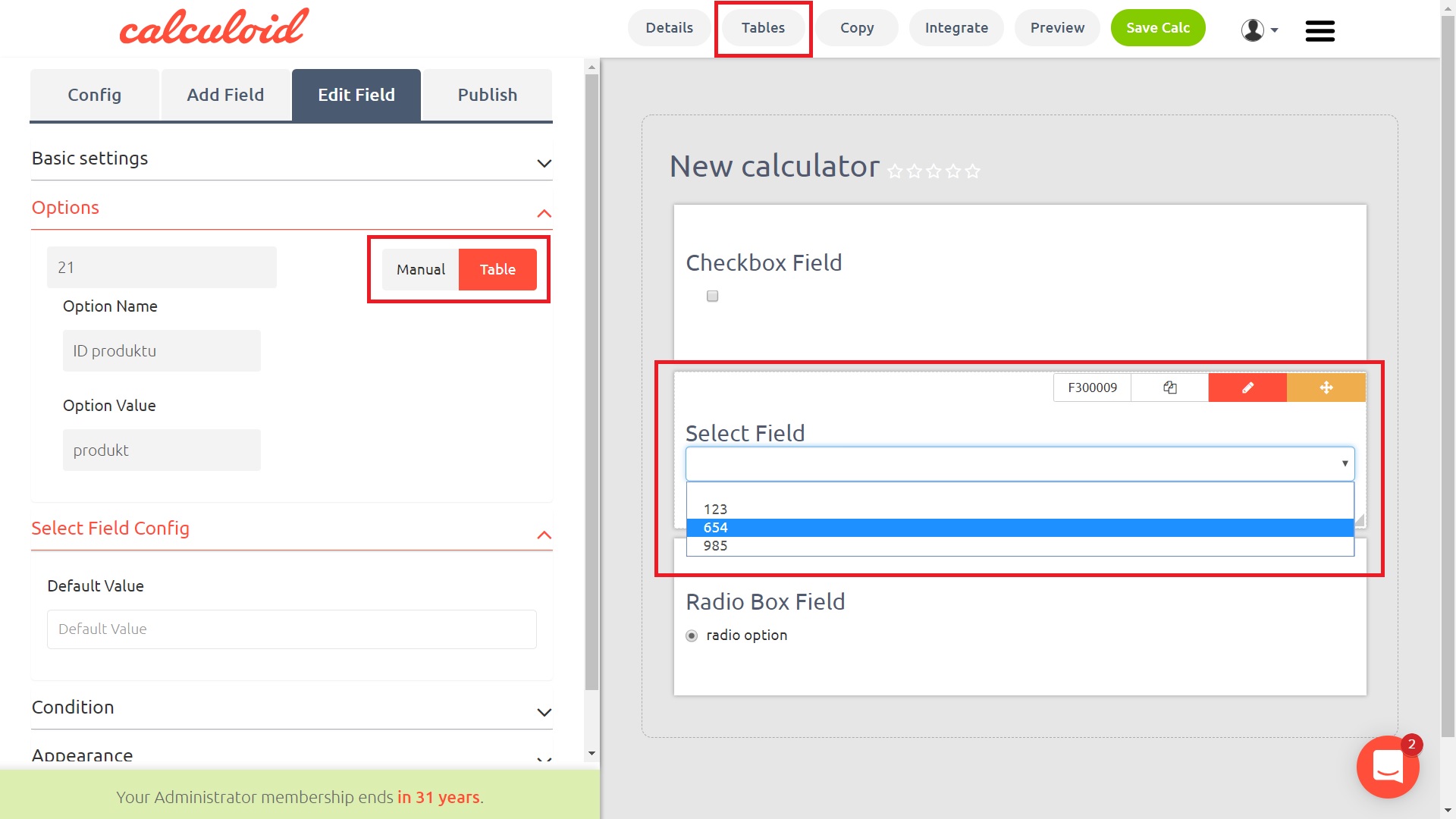 Select field with CSV import option - Calculoid.com
10. Calculoid documentation
Even that Calculoid is basically as simple as no users should ever need to read it, we have a brand new user documentation. So whenever you are in trouble with your web calculators, please check this out first before you contact our customer support.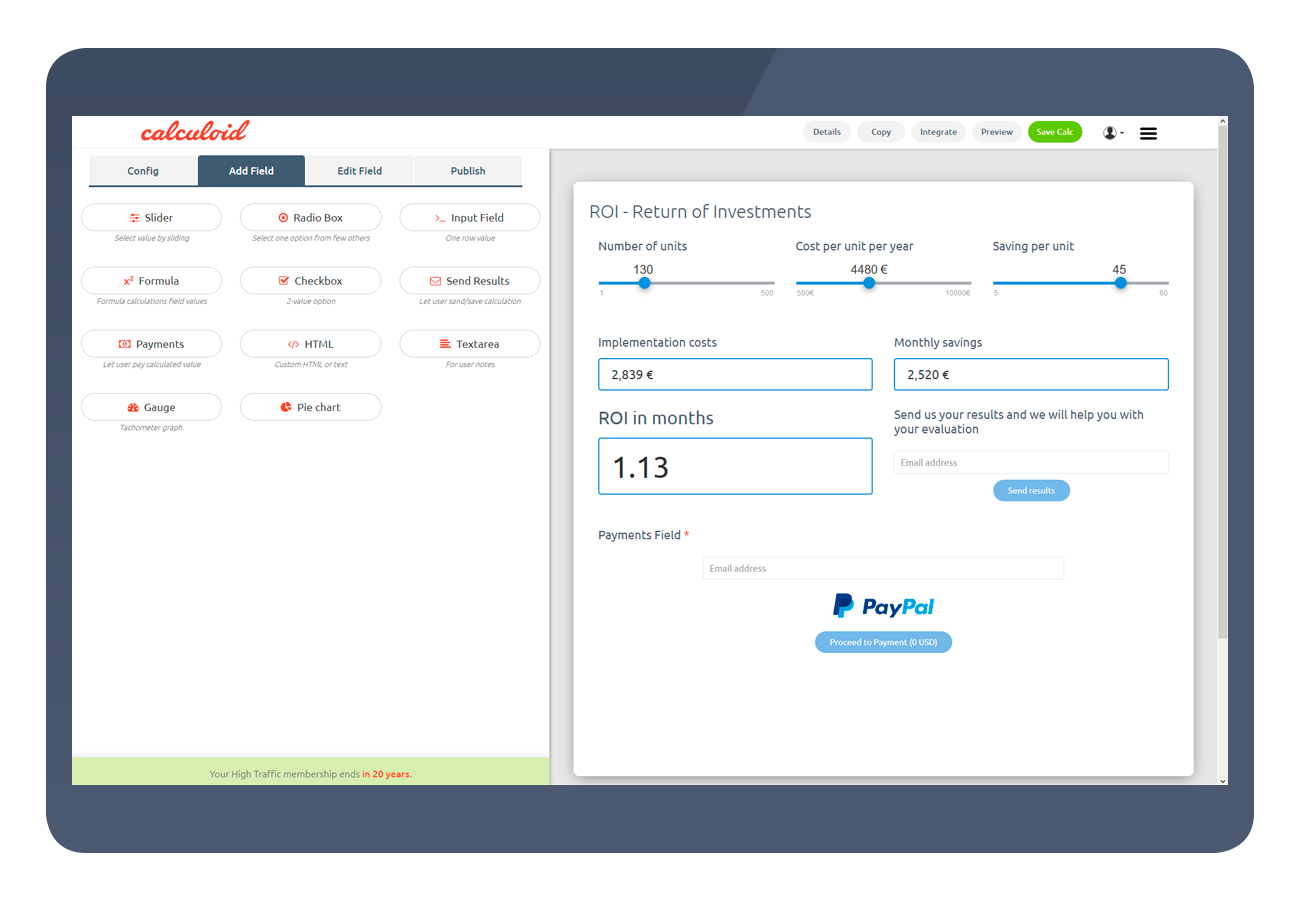 Easy-to-use calculator builder - Calculoid.com
Author: Lukáš Beňa