Web calculator as a quick & easy e-commerce tool
Checkout on your website made easy with the improved Payment field. Get all the client's information you need in just one step.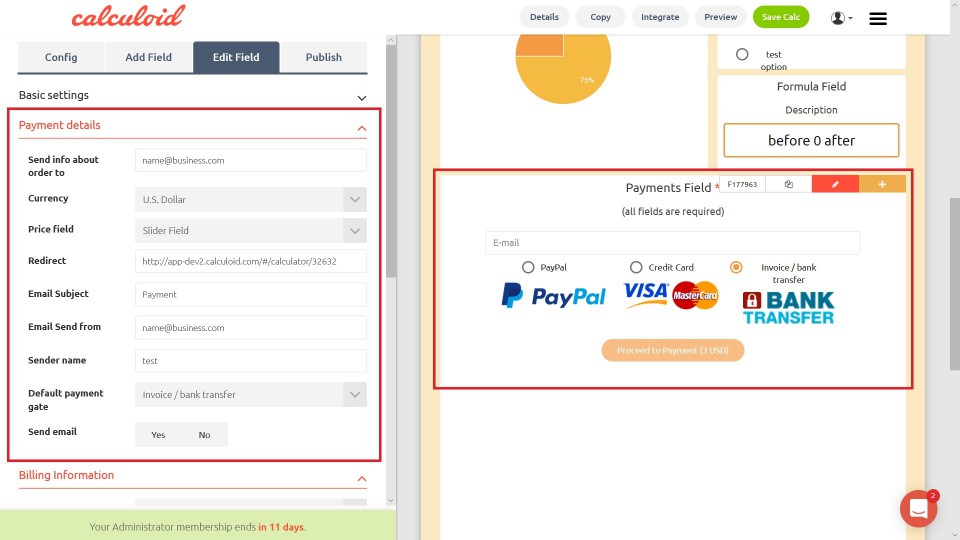 We have improved our Payment field to make your e-commerce web calculator run even smoother. No need to contact your client later for additional information, get all the information you need in just one step as a part of the Payment field in your web calculator.
Payment field gives you an opportunity to take payments from your customers for the services you offer based on their input in the calculator on your website. Especially when the amounts exceed a certain amount you are legally obliged to issue an invoice for your product and services, and we know it is sometimes not easy to chase a client for those details. However, no need to chase your clients anymore as we offer you a checkout field as a part of the Payment field.
Let your users calculate and pay in easy-to-use check-out
We offer you several predefined fields – Email address, First name, Last name, Address, City, Zip code and Country. And you can also use optional fields, such as a Phone input and Order as a company.
Please note that Payment field is only available for E-commerce and High Traffic subscription plans, click here to upgrade your subscription.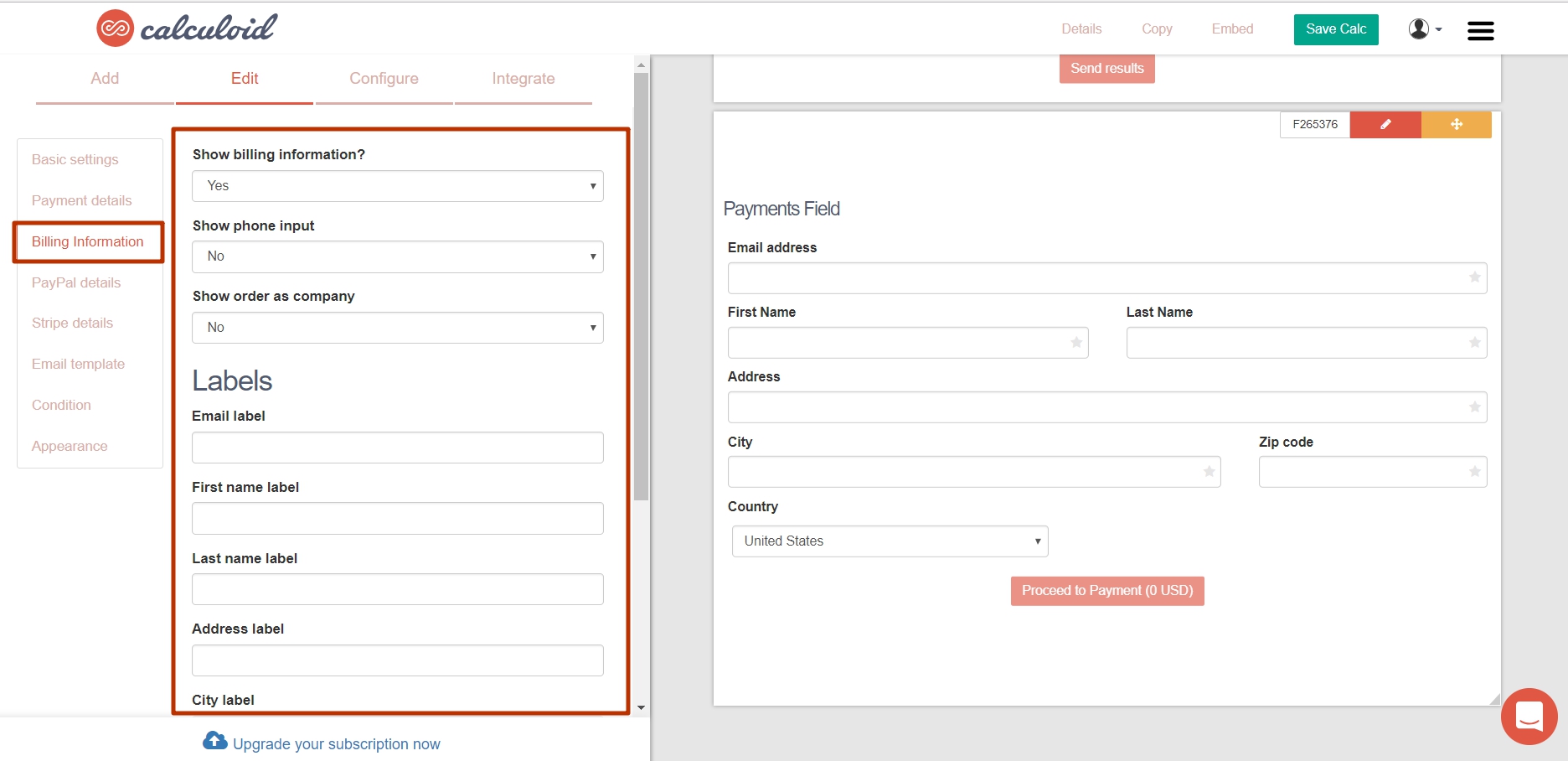 Payments field configuration
How to configure check-out feature in the Payment field
Sing into Calculoid, open one of your calculators and add a Payment field to your calculator. To define the checkout field information, click on "Billing information" tab on the left side of your screen.
First, you must choose whether you want to show billing information as it is not compulsory for you to use it in order for you to use a Payment field. Additionally, you can choose to show Phone Input field and Order as company checkbox as part of the billing information your client has to fill in as well. All billing information fields are required to be filled, and the client cannot proceed to payment unless they have been filled in.
You can choose to change the label of each field as well – e.g. you can change the label "Last name" to "Surname" or "Zip code" to "Postcode" etc.
Lastly, you can also add a checkbox to your checkout, this is particularly useful for GDPR. If we take the GDPR case for data protection, the Checkbox text could be "I consent to have this website store my submitted information" and you can link it to your Terms & Conditions or your Data protection policy. You can add as many checkboxes as you wish.
No credit card required. No installation needed, no obligation
Enhance your e-commerce with Calculoid! Calculoid provides a complete set of features for online calculations, lead generation and payments collection. Let your visitors make calculations, receive quotes to their email and pay for products and services.
Author: Anna Ogunnusi