No coding required / 100% mobile / Zapier integrations / Easy to embed / SSL Protected / PayPal & Stripe Payments
The best features for real-time business calculations
All math functions
Calculate anything like in Excel Spreadsheet. Easily, online and in real-time.
Custom design
Design and brand your calculators easily so it looks like a native part of your app, software or website.
100% Ownership
Get all-in-one solution for your own server or in private cloud.
All platforms
Calculators can be embedded in any web applications. Easily and with no effort.
100% mobile
All Calculoid calculators are 100% mobile and touch-friendly.
The calculation platform for all your business needs
On the fly business calculations
Embedded Caluloid calculator can read data from the web application where is embedded and provide any real-time business calculations over it. Embed business calculations into your online products or services. It has never been easier.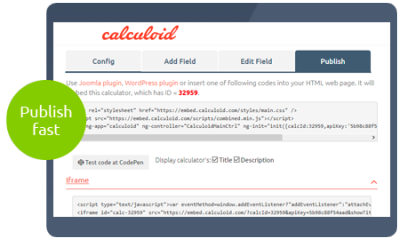 Interactive Media & Banking
Make your online media or bank website full of interactive calculators. Calculate anything from finance, health, saving, taxes, loans or mortgages. Interaction increases users engagement, boosts lead generation and e-commerce.

Explore function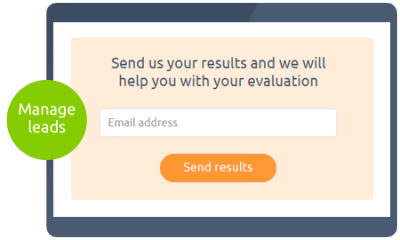 Complete Payment Solution
Calculoid offers a complete payment solution for any online & mobile business. Embed pricing and payment right into your web application or software. The proximity of payment solution increases e-commerce revenues.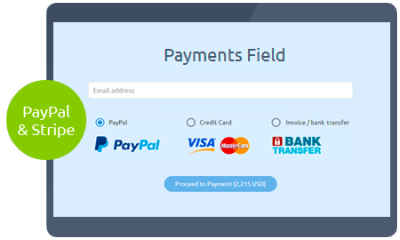 Need full power of Calculoid?
Our support experts are ready to help you with calculators solution.
Full & Easy Integration
Calculoid has complete REST API with webhooks which makes integration with any up-to-date software or web application piece of cake. Moreover, it has 1000+ ready to use integrations using Zapier. Integrate calculations data, leads or online payments easily.

Explore function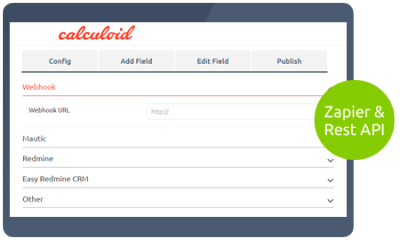 Web calculators templates
Calculate anything. Choose a template or start from scratch.
Boost your website interactivity, generate leads, accept payments.
Online payments included
Pricing Calculator
Calculate prices for products or services in real time and get paid online.
ROI Calculator
Calculate ROI of your products and services and collect customers leads.
Load & Debt Calculator
Any finance related calculations for your users - insurance, loans, debts.
Costs Calculator
Calculate the costs of projects or services online & easily.
Saving Calculator
Calculate any saving for your customers and send email to collect the leads.
Online payments included
Online Store
Create a simple online store, calculate the final price and get paid online.
What users say about Calculoid on Capterra?
A great tool for interactive website features

Overall: I've used Calcluloid for over a year now and am overall quite happy with it. Users on our site like the interactive functionality, and I like that I can customize the look locally with CSS (great for mobile responsiveness). Good tool - a little pricey, but mostly worth it.
Pros: You can use custom formulas, customization with CSS, customer support is quick and helpful
Cons: The platform is a little bulkier, but seems to be getting better. I don't like their payment platform, but the tool itself works quite well

Alexander M

Online Marketing Manager , Consumer Goods, 1-10 employees

Good product

Pros: Ease of installation, free trial to figure out if it's working for us or not, ability to design and customize.
Cons: It takes some time to load on our web page, not sure if the problem is with our website or the calculator.

Alex K.

Marketing Coordinator , Warehousing, 11-50 employees

Integrating Calculoid in website

Overall: Calculoid is a good software that follows your requirements and useful if to integrate in any type of website or online platforms.
Pros: Calculoid was an easy configured software to your needs. The integration with our website as per embedded codes given was easily implemented. It was useful for my website.
Cons: I make use of the free capability that calculoid allowed but unfortunately those features were no longer available. We have to make a purchase in order to use it.

Muhd F.

IT Officer , Non-Profit Organization Management, 11-50 employees

It's a very useful and interesting product if used with easy project

Overall: I chose to ask for services. Everything was fine except that I wanted to use it in an integrated workflow with Easy project.
Pros: Very easy to use. The calculation tools are simple and user-friendly.
Cons: The administration with Easy project remains complex but it's a matter of mastering.

Thierry Z.

Director , Management Consulting, Self-employed
Calculoid on Capterra overall 4.5/5 (4 reviews)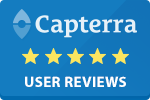 Start Free Now
Create your own web calculator in a matter of minutes.
Test all features in the 30-day free trial.


No credit card or installation needed
Contact us
Phone
US: +1 415 800 3787 UK: +44 207 097 3577 CZ: +420 222 743 843 Office hours: 9:00 - 17:00 UTC+1
Information
info@calculoid.com
Support
support@calculoid.com
Easy Software Ltd.
Kemp House, 152-160
City Road, EC1V
2NX London, United Kingdom
Company ID: 08960980
VAT ID: GB226711521
Easy development center
Jugoslávských partyzánů 34
160 00 Prague
Czech Republic